Les Roches the majestic Swiss Alps To 5-star luxury in Bangkok
Nestled in the picturesque Swiss Alps, just a few minutes drive from the famous ski, golf and leisure resort of Crans-Montana, sits the campus of Les Roches International School of Hotel Management. With bachelor, postgraduate and master programs in the fields of hospitality and event management, Les Roches offers a rich array of resources for academic progression, professional development and international networking to equip students with the attitude and skills needed to become the future leaders of the industry.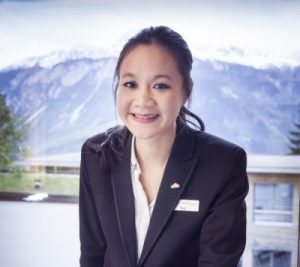 Thanyathorn Chatlaong from Thailand graduated from Les Roches with a Postgraduate Diploma in 2013 and dived straight into her new career as a Revenue Analyst for Four Seasons Hotel Bangkok. She shares her Les Roches experience, and why it was the best step forward to change the direction of her career in one of the fastest-growing industries in the world.
Why I wanted to change career
Before deciding to study at Les Roches, I worked in a media company for about 2 years, then moved to a digital marketing agency as an assistant to the managing director and a marketing group head manager for about one and a half years. I became interested in hospitality as I took more and more holidays during my marketing career, and started to have ideas about how nice it would be to have my own business that was a hideaway place. The idea became more and more attractive, but with no background in the field, I wanted to gain a little bit of basic knowledge and know-how before diving into hospitality full time. The Postgraduate Diploma program at Les Roches seemed to be the right solution for me.
The Les Roches way of life
It was an amazing experience for me living on campus in the middle of the Swiss Alps. Not only did I come to fall in love with the Swiss mountains, the location of the campus is one of the very reasons that makes Les Roches such a special place. It is the location that bonds all of us Les Rochians together.
 The classes during my program were small, and very interactive in nature. While providing theoretical foundations, practical lessons and applications to real life situations were a big part of most of the classes as well. The balance of both theoretical and practical classes at Les Roches was something that came to be very useful once I was in the field. And because classes are small, there were opportunities for one-on-one interaction with teachers.
 Each semester, around 40 different companies visited Les Roches to recruit students. The number and the profiles of the companies who came to the school for recruitment showed me how well connected Les Roches was to the industry.
 Being such an international campus with people from all the parts of the world, Les Roches offers a unique setting for the development of interpersonal and social skills, which are at the center of the hospitality world. To me, hospitality is about people – how to lead and manage people, and how to make them feel the most special.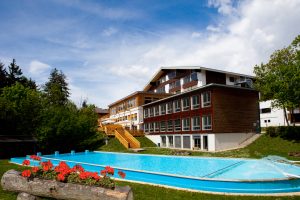 Hired by the best
Before graduating, I was in contact with the Four Seasons Hotel in Bangkok. After several emails back and forth while I was going through my final exams at Les Roches, I finally had the chance to interview with the Director of Sales & Marketing, who asked me about what I thought revenue management was. I sent him one of our revenue management projects analyzing Four Seasons revenue strategies, which secured me the final face-to-face interview with him in Bangkok and I was offered the position of Revenue Analyst.
 I was exposed to revenue management from the Yield and Revenue Management class at Les Roches, and I believe one of the projects I did for this class helped me to achieve the position I am in now. More than the specifics of revenue management; however, the wholesomeness of the basics of hospitality, may it be in food & beverage, rooms divisions, and even finance and accounting provided me a great overview which allowed me to catch up with those already established in the industry.
 With a good experience in the field, I hope to establish my own business in the future. Coming into the field because hospitality gives out so much joy and happiness, I hope that one day I would be able to offer those happy moments to those who seek them through travel in my own, unique hotel.