Why should you study at Les Roches?
Les Roches revealed 2 secrets to a recession-proof career
Sounds too good to be true? Well that's because it's not true. A recession-proof career does not exist. But you can have a career that is recession 'resistant' if you make the right choice about what you study and where you study.
Secret # 1: What you study
Have you ever considered a career in hospitality? Before you say hospitality is just restaurants and hotels, think again. A Bachelor of Business Administration in hospitality can take you anywhere from organizing the Olympic Games, to doing the brand marketing of a leading hotel chain or organizing a global music tour. The list is endless.
Hospitality and tourism is one of the world's largest, most diverse and most dynamic industries. It is vast and offers a broad variety and high number of jobs across the globe. According to the World Travel and Tourism Council, hospitality and tourism employs more than 235 million people worldwide. Year after year, hospitality and tourism is among the fastest-growing industries in the world. In 2011 alone, the top 10 internationally renowned hospitality companies opened nearly 1,000 hotels for business. That means just under 170,000 rooms were opened for customers, so these hospitality companies needed over 16,600 managers and supervisors to run the new hotels.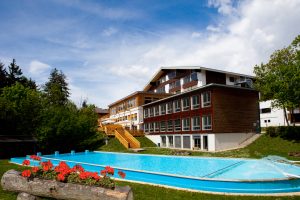 Secret # 2: Where you study
Any old hospitality management course is not enough. If you want a career without boundaries, you need 'global edge'.
Choose Switzerland, the home of hospitality education, for your degree course. And if you choose Les Roches International School of Hotel Management, you multiply your global experience a thousand-fold. Les Roches offers a rich array of resources for academic progression, professional development and international networking to equip students with the attitude and skills needed to become the future leaders of the industry.
What does 'global edge' mean at Les Roches?
Worldwide internship placements (average 3 per student).
Semester transfer possibilities to Les Roches campuses in Spain and China and affiliated institutions in Chicago and Amman, Jordan.
A new global degree course, which enables you to rotate through campuses in Switzerland, China and Spain and learn first-hand what quality service means in these key markets.
90+ nationalities on campus.
Business degrees accredited by the New England Association of Schools and Colleges (NEASC), in the USA.
6 BBA specializations in 'Entrepreneurship', 'Finance', 'Marketing', 'Culinary Business Management', 'Event Management', and 'Innovation and Sustainability' for your unique career pathway.
Les Roches is ranked by industry hiring managers of luxury hotels among the top 3 hospitality management schools in the world for an international career (TNS, global research, 2013)
Around 120 company recruitment visits on campus each year.
89% of our students graduate with one or multiple job offers.
Which shows that Les Roches will help you launch a career that is as recession-proof as recession-proof gets
www.lesroches.edu