THE SUMMER CAMP 2019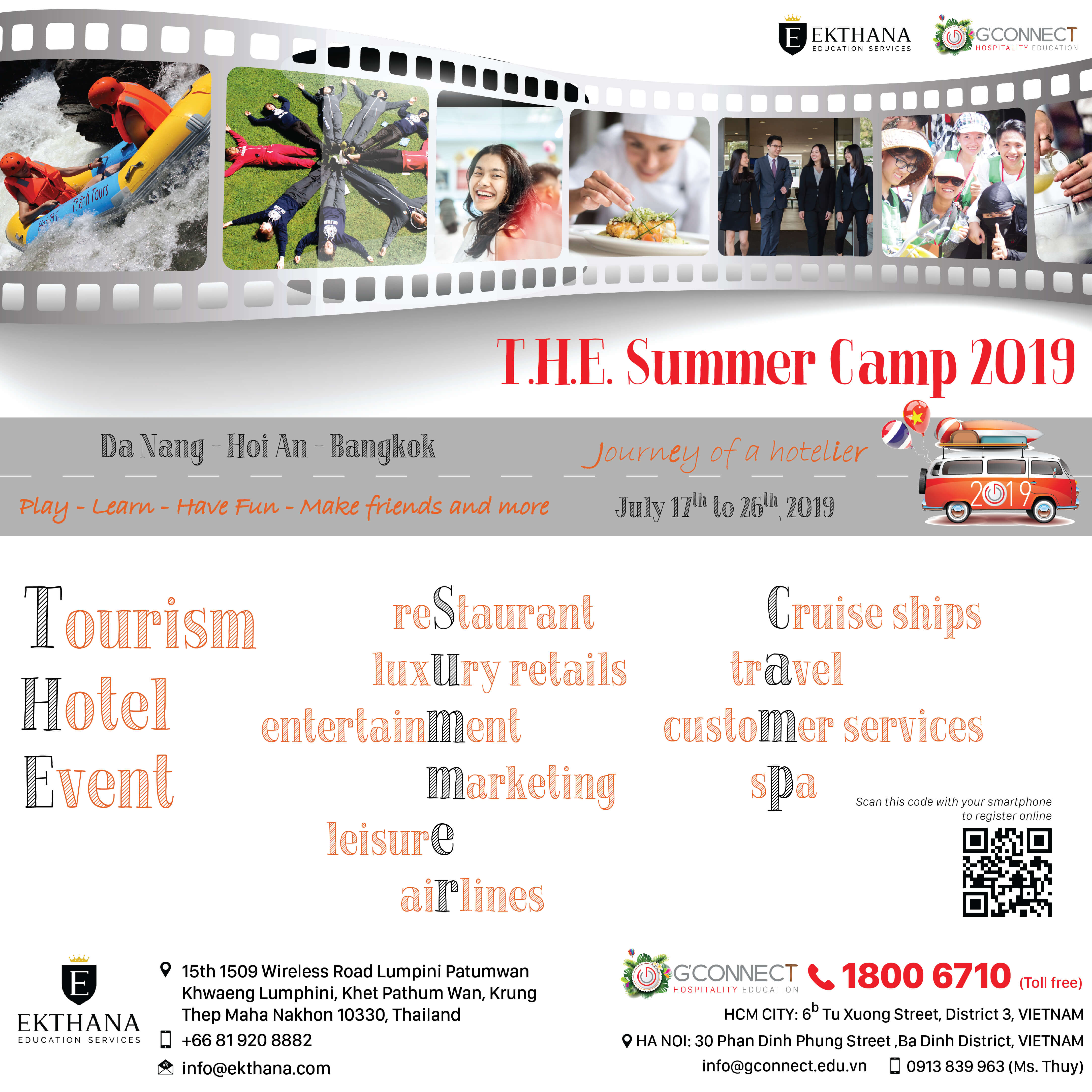 Who should attend?
T.H.E. Summer Camp 2019 will only be suitable for those who are considering and are looking for
pursuing a career in the Tourism, Hotel and Event industry or so-called Hospitality industry.
T.H.E. Summer Camp 2019 will be one of a kind opportunity for you to learn, have fun, exchange
cultures and making friends. From learning and discovering different aspects of the Hospitality
industry to experience many activities to help you build up your skills and knowledge. Imagine
yourself into the Amazing Race and playing as a candidate in our Master Chef competition. There
are endless fun and great experiences waiting for you to learn.
T.H.E. Summer Camp 2019 is delivered by G'Connect Hospitality Education (Vietnam) and
Ekthana Education Services (Thailand), the two prestigious hospitality education centers in its
regions in conjunction with lectures / professors and graduates who are currently working in the
Hospitality industry.
Where
DA NANG
• Tien Sa Resort: Attractive camp site located on the north of Son Tra peninsula, just about 10km
to centre of Da Nang. The scenery also looks wild, quiet with blue sea, white sand and sunshine.
Besides, Tien Sa Resort has many interesting outdoor activities, include campfire, barbecue.
• Hoa Phu Thanh: located in Hoa Vang district of Da Nang city with many amazing games such as
zipline, rafting.
• Hoi An Ancient Town: An ideal place for a wide range of services and breathtaking experiences
in Hotel, Tourism and Events industry.
BANGKOK
Thailand's capital is kept alive by the beautiful mess of traffic and people. Visit Pratunam or Siam
Square for premium shopping, then unwind in the European-style gardens of Dusit and the
Temple of Dawn – deemed one of the world's most beautiful structures.
One simply cannot miss the floating market shopping and dining experience flows along the Chao
Praya River with Buffet Dinner on the Cruise and Bangkok Night Tour
When: July 17th to 26th, 2019
Fees:(*) 18,550,000 VND (Inclusive of all accommodations / meals / transports / insurances /
activities and Airfare from Da Nang to Bangkok on July 24th) *Conditions apply
FeeHelps:
10% off when you bring a friend
20% off for students register at T.H.E. Education Fair 2019 or enroll to GHE and Ekthana
representing institutions (2019 to July 2020 intakes)
To attend T.H.E. Summer Camp 2019 you must be at least 16 but not exceed 24 years of age and have an IELTS of 4.5 or equalalent.