Helping chefs run more sustainable kitchens by cutting food waste. There's much to applaud about mission-led companies like Winnow Solutions – we found out more about the company and how it gave alumna Natasha Montagu a new career direction.
Name: Natasha Montagu
Graduation Year: 2016
Nationality: English/Taiwanese
Program: BBA in Global Hospitality Management
When class of 2016 alumna Natasha Montagu stepped back through the doors of Crans-Montana campus for the first time since graduating it was a 'homecoming' with a remarkable symmetry.
Natasha was back on campus to be a keynote speaker at the 2019 Future of Hospitality Summit (FHS), the student-led event that is a real calendar highlight; offering students a chance to glimpse the future direction of the industry.And the symmetry? Because it was FHS that changed the course of Natasha's professional life.
Today, Natasha is a Project Manager for Winnow Solutions, a mission-led, scale up company that is committed to developing digital tools to help chefs run more profitable and sustainable kitchens by ending avoidable food waste in the hospitality sector.
"It's staggering to think that of all the food we produce in the world, around a third gets wasted somewhere in the supply chain," Natasha says. "And if you look at the bigger picture around climate change, the food industry is a larger CO2 emitter than the travel industry. We as individuals, as well as businesses and governments, all have a hand to play in reducing this waste."
It was an issue that first came to Natasha's attention during the professional internships that were core elements of her Bachelor's degree at Les Roches. Working in a large commercial kitchen, she saw first-hand just how much edible food goes to waste. Having always viewed the hotel sector as her future career path, it became a 'lightbulb moment' that opened Natasha's mind to other possibilities.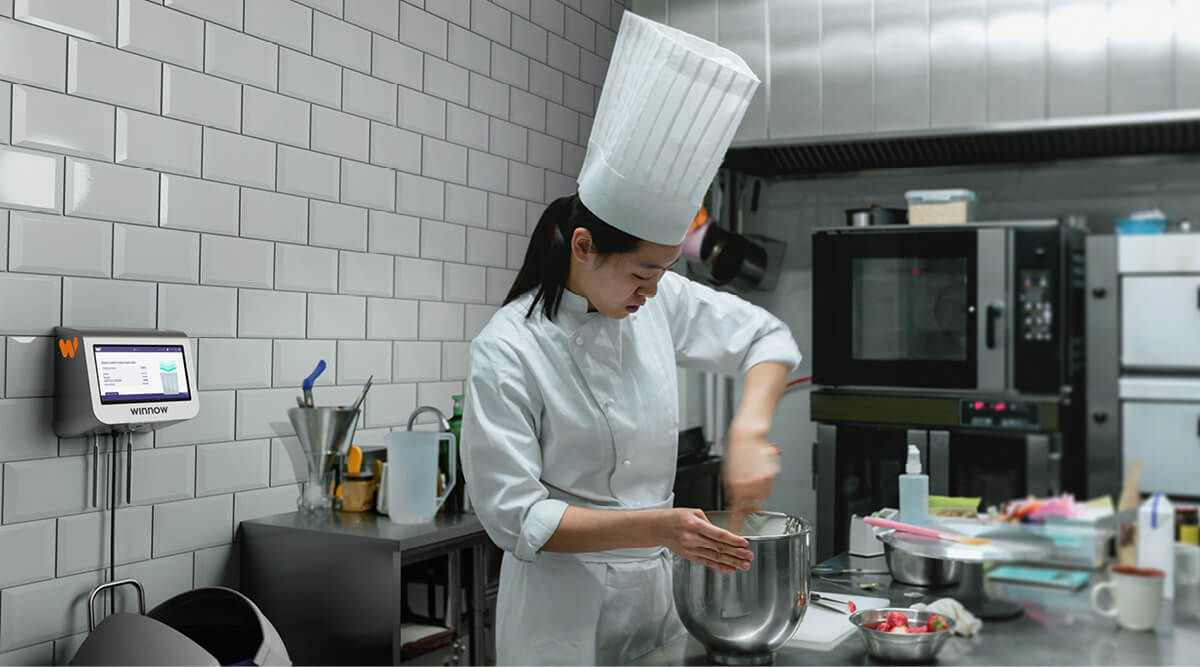 "I went to Les Roches for a reason, and that was to get into the hospitality industry. I always thought that this would be with a top tier hotel group. It wasn't until my final semester when my mindset shifted, and I decided I still wanted to be part of the hospitality industry; but rather than being in hotels I wanted to make a wider impact."
This was the point at which Natasha discovered Winnow Solutions, as she researched technology-led companies she could invite to the 2016 edition of FHS.
"It was a happy coincidence and demonstrates the power of networking on your career," she says. "After inviting Winnow to present at FHS, I developed a good working relationship with my contact there – who is now my colleague!"
Taking the "risky path" to success
Upon graduation, Natasha turned aside an offer from a major hotel group in order to take the plunge with Winnow. "I was employee number 30, but we are now more than 150-strong globally, so taking the risky path has certainly worked out for me! It's been really exciting to see us grow – last year we closed our Series B funding by raising €12m from investors on top of an €8m loan from the European Investment Bank (EIB)."
The company already counts some major names among its client list, from 'pure' hospitality players such as Armani Hotel Dubai through to retail giant IKEA (which is also an investor), and the corporate catering group Compass.
Its core product is Winnow Vision, an artificial intelligence (AI) powered tool which is installed into commercial kitchens  for chefs to easily pinpoint waste, cut costs and save time, for the benefit of both businesses and future generations. "You can't manage what you can't measure. Winnow Vision is designed to automatically collect and put data at the chef's fingertips, so they can make data-driven decisions that will lead to more food-efficient operations," says Natasha.
Inside Winnow Vision
The Winnow Vision system has three main components: a scale that knows the weight of food put into waste bins, a camera that sits above the bin(s), and a computer tablet that provides the user interface for the chef.
"Every time food is thrown away the system collects data based on the weight, label and image of the food," Natasha explains. "These are what the computer uses to 'train' itself to learn exactly what is being thrown away."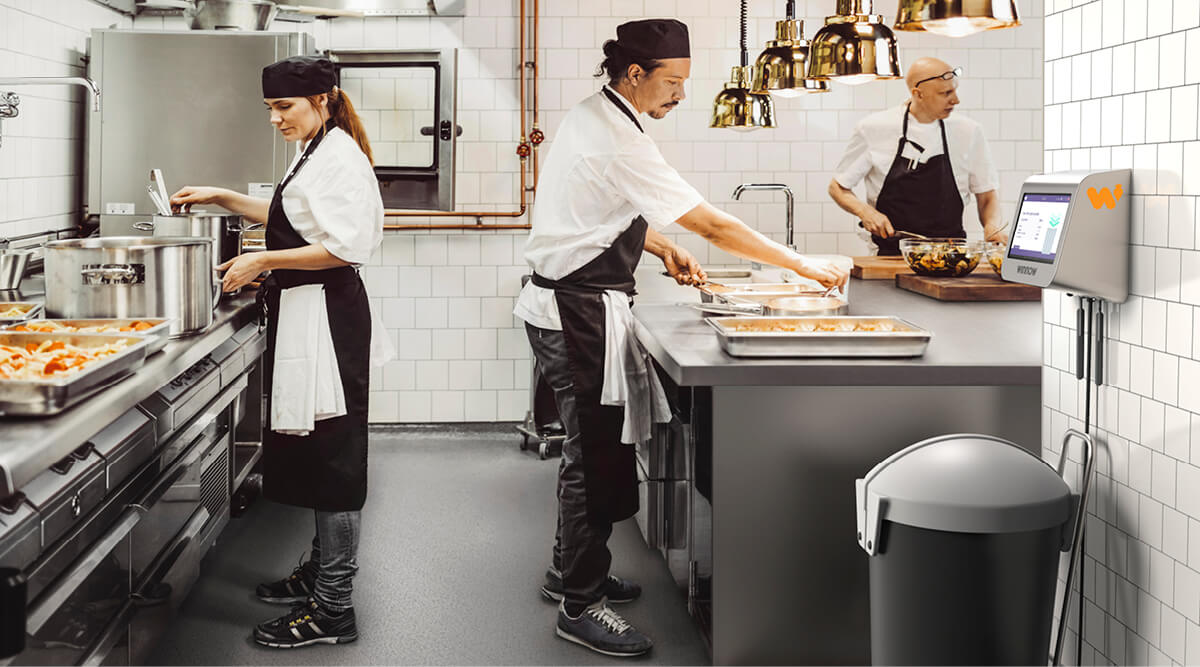 With trillions of data points created by a large-scale kitchen, Natasha's role is to direct the specialist IT service company that 'cleans' the raw data which is then used to 'teach' models.  "I sit within the data team; we're six people strong and we're actively hiring as we continue to install more Vision systems in client premises," she says.
For clients, the win/win of Winnow Vision is a combination of cutting food waste and saving money. Natasha says that large-scale kitchens can enjoy a return on investment of anything up to 1,000% of the cost of installing the system!
Future of Hospitality Summit: the perfect platform
Introducing Winnow's mission and its potential to disrupt the industry was the focus of Natasha's presentation at the 2019 FHS. And she notes that her message seemed to resonate well with the current crop of Les Roches students.
"This generation cares about the future health of our planet. And at Les Roches we're speaking about the leaders of tomorrow – people who will be going into positions of decision-making authority. I wanted them first to be aware of this issue; that to give clients quality dishes doesn't have to mean throwing away a third of what you bring into the kitchen."
As someone who is helping to lead hospitality's digital transformation, Natasha is naturally positive about the launch of our new Master's in Hospitality Strategy and Digital Transformation, which receives its first student cohort in September 2020.
"It's a good time for people to be focusing on what digital transformation can achieve," she says. "It's great that this Master's is being introduced – and I've been approached to support the curriculum with some case studies in this space, which is really exciting."
She closed with a few words of advice for anyone currently thinking about enrolling at a hospitality business school like Les Roches. "I would say to remember the world is your oyster. Be open, because there are some big opportunities out there. They might not be immediately obvious to you; it might take some digging on your end, but there's massive potential to get involved in the technology space on a multitude of levels.
"You don't have to be a coder. Hospitality-focused tech companies like ours need people at operational and business development levels, especially those who have an understanding of hospitality operations from the ground up. I've already had Les Roches students reach out to me for internships, and I would encourage young people to look closely at the technology space, to see what's out there."
Source: https://lesroches.edu/blog/how-to-join-hospitalitys-digital-revolution/?utm_source=facebook&utm_medium=link-post&utm_campaign=alumni-story&fbclid=IwAR3iN2CXSIJ4HLRDY_2hmMDMiwroXpS8fvZ7-DkLf_9GKYYKVFM01KlsRSc