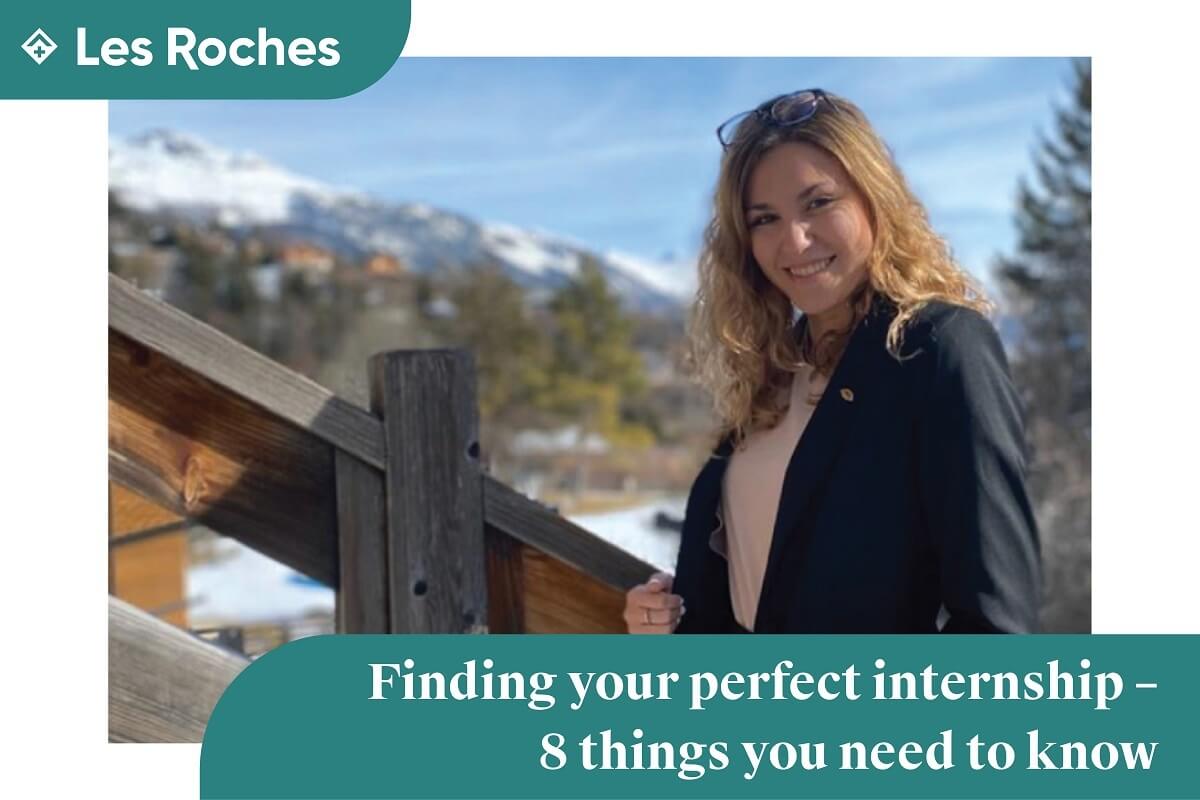 Part of the Les Roches curriculum – in order to achieve an overall look into the functioning of the hospitality industry – includes two six-month internships between the academic semesters. Here, BBA Student Ambassador, Julieta Ranieri, shares her insight and 8 top tips to finding your perfect role.
Your first internship, usually after the first BBA semester 's frenzy of practical experience, will provide you with hands-on experience, such as F&B service or kitchen, front office or guest relations. Your second internship will try to look into your managerial skills, with more administrative positions in events, marketing, human resources, finance, amongst others.
Finding an internship can be challenging, and attempting to enter the workforce as a student or recent graduate requires patience and persistence. But, with an organized process and attention to detail, landing that perfect job that fits with you can be a reality.
Here are 8 things to know to help you find your perfect internship: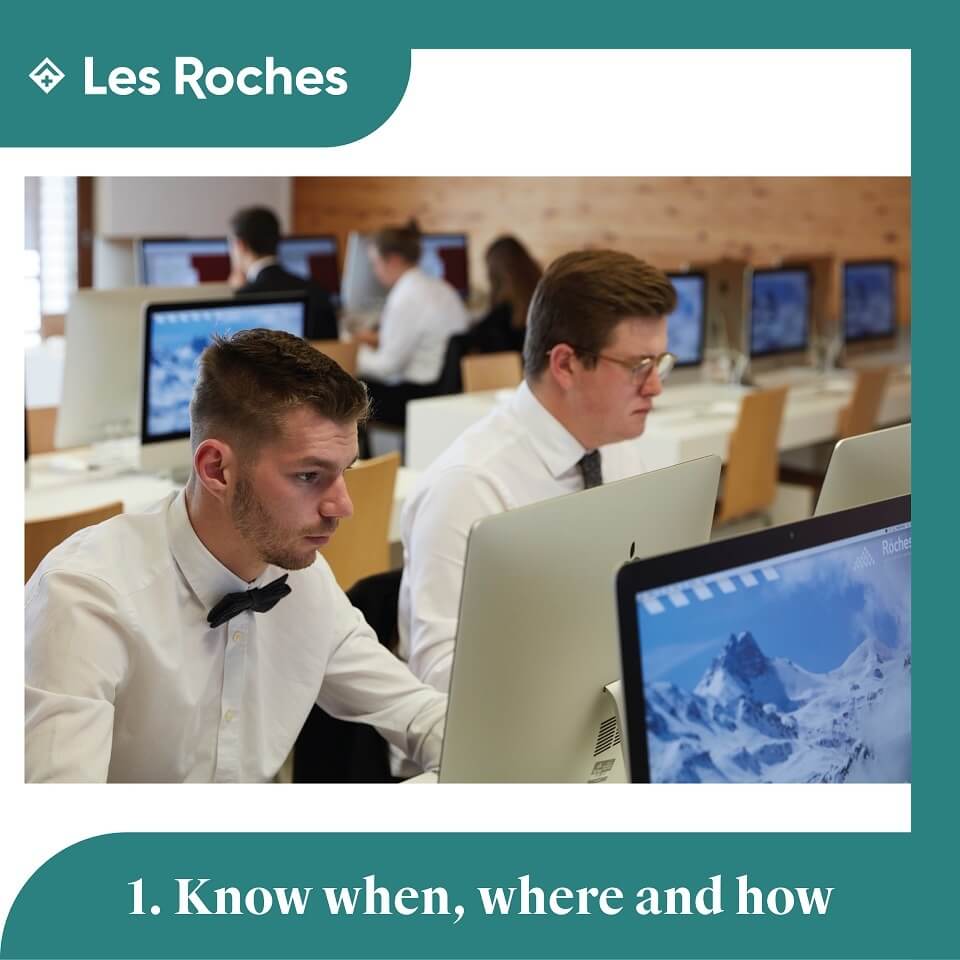 1. Know when, where and how
The Internet is filled with job application platforms. Make sure you always choose the reliable ones, as others may have "fake" or already closed positions. The most used ones are Linkedin, Hosco and Glassdoor. Les Roches also has its own recruitment platform, Symplicity, to which you get full access when you become a student. Starting your search as early as possible, as well as checking for new job openings regularly will guarantee you an early application before the recruiter's email fills up with CVs.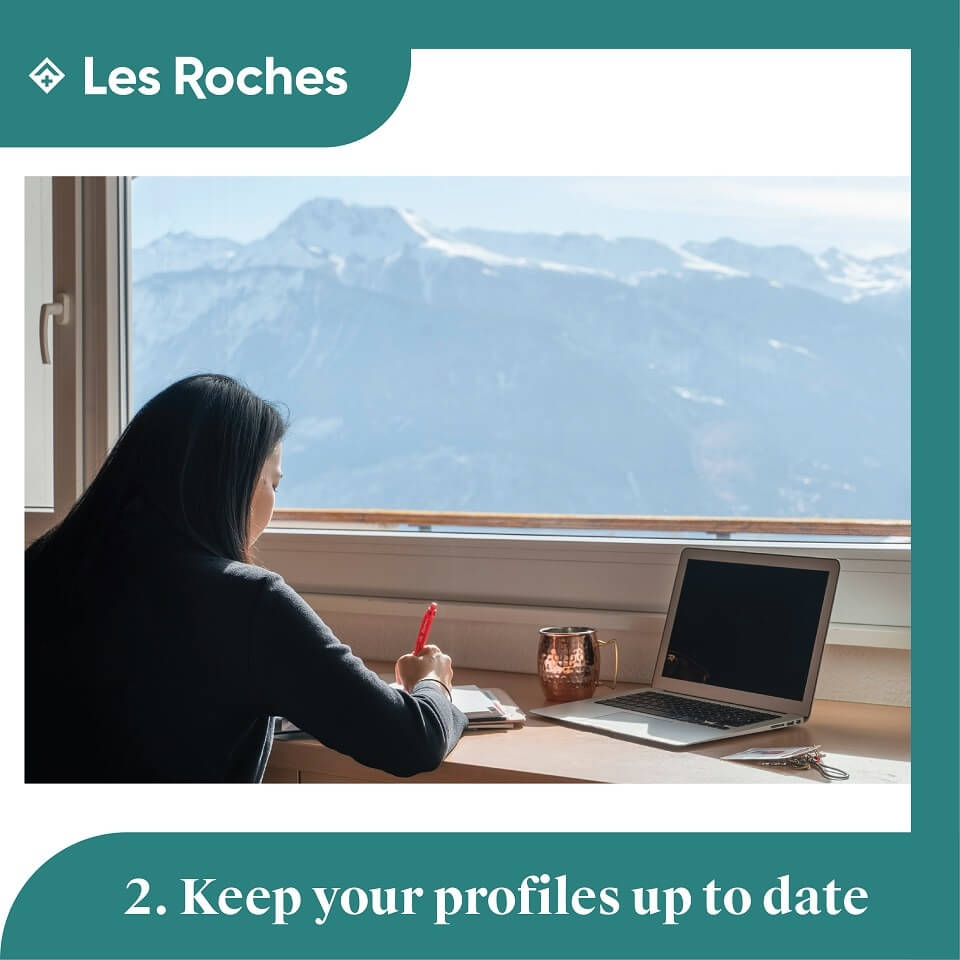 2. Keep your profiles up to date
One of the most important parts about job hunting is the connections. Platforms like Linkedin allow you to network and connect with recruiters and people who can help you find your way in your career. On that note, keeping your profile up to date with information about you, a new and refreshed picture and your previous work experience is very important.
A lot of these platforms offer you the chance to "show off" your certificates and extensive work history, as well as your interests, and your profile might be catalogued to be shown in recruiter's pages.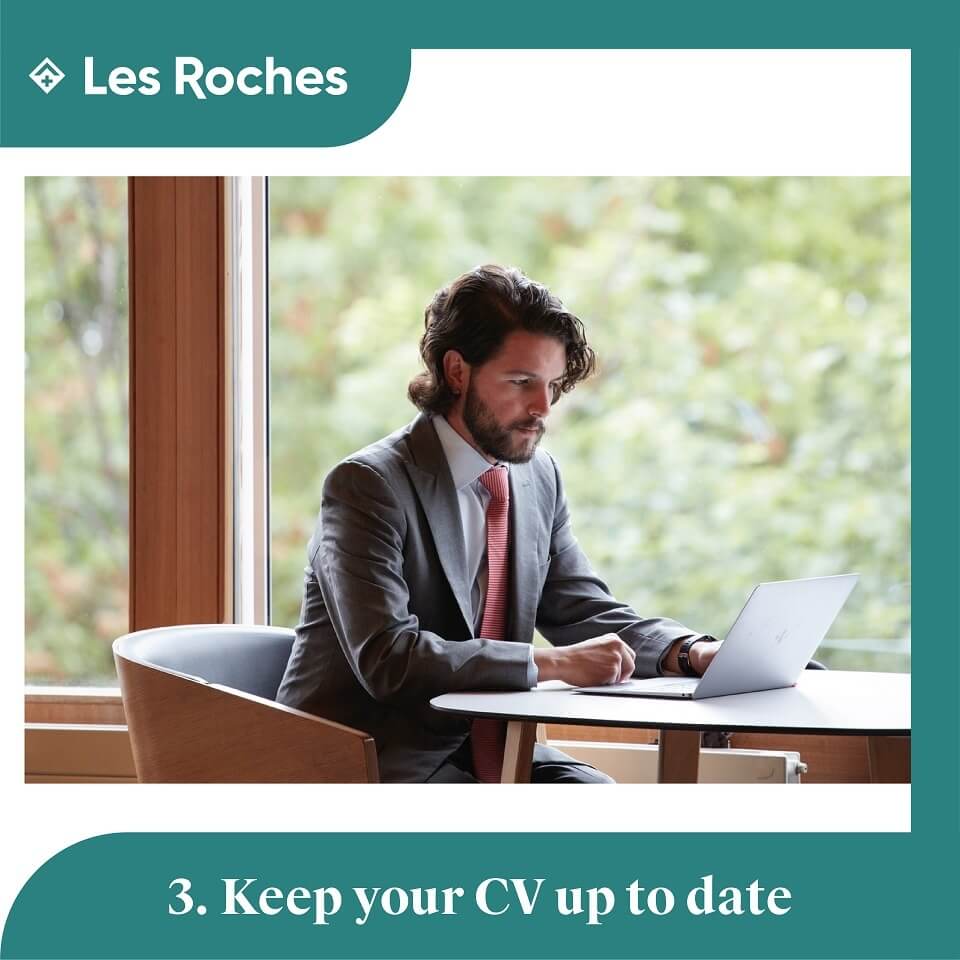 3. Keep your CV up to date
Your CV (curriculum vitae) will be your best friend for the entirety of your career. Your CV is your first chance to prove to a recruiter that you are a good fit for the job at hand, so therefore it needs to be almost perfect. Les Roches students get taught in their first semester about CV construction and optimization, and most students update theirs at least once a year to display their most recent achievements.
A good CV is one that is legible, complete and original, while not being over-creative to allow for computerized reading, which is now what most online applications implement.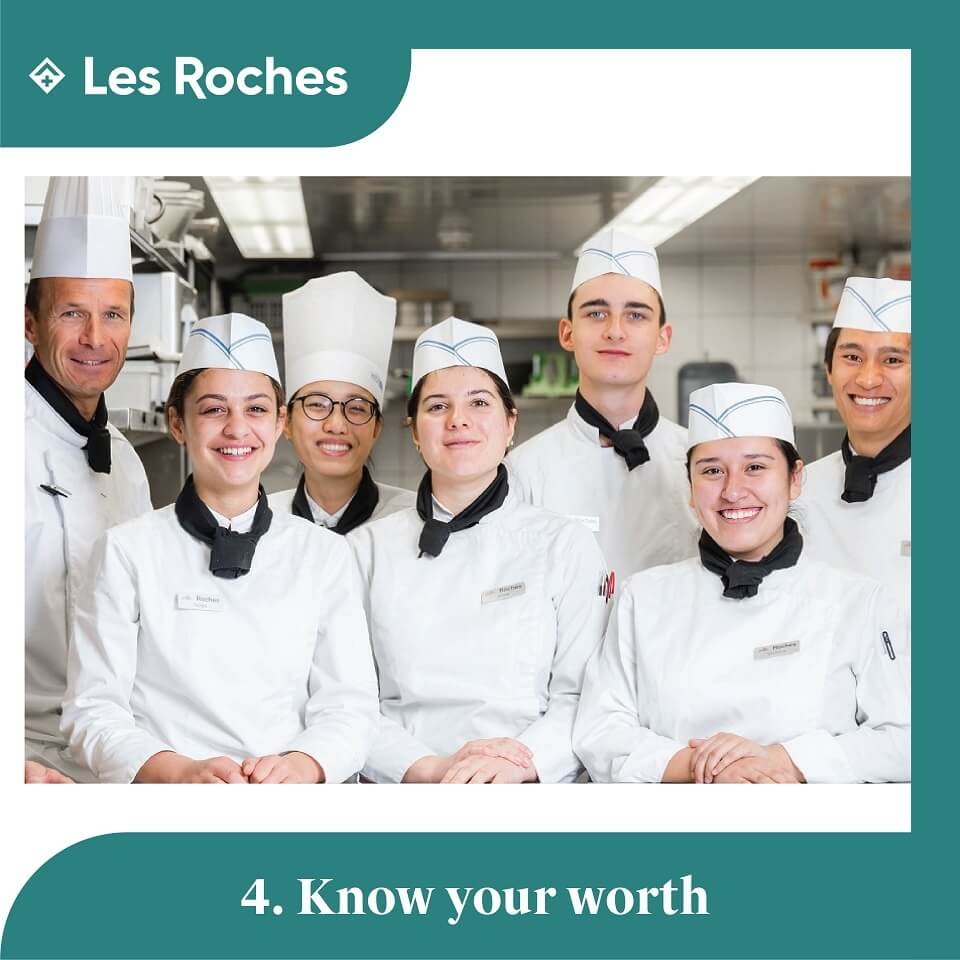 4. Know your worth
If you are a newbie to the careers world, it is possible that you might apply for jobs that are not what they seem, and in the rush of securing a job you will accept whatever comes your way. You should research about the usual wage in your market, as well as the legal conditions of the country you are planning to work in. It is sometimes good to check the minimum wage and entry level salaries, to make sure that you are not working in unfair conditions.
Do not be afraid to discuss salaries and conditions, but never do it on the first interview! Knowing your worth will allow you to stand up for yourself and be able to recognize when employers are not following basic requirements.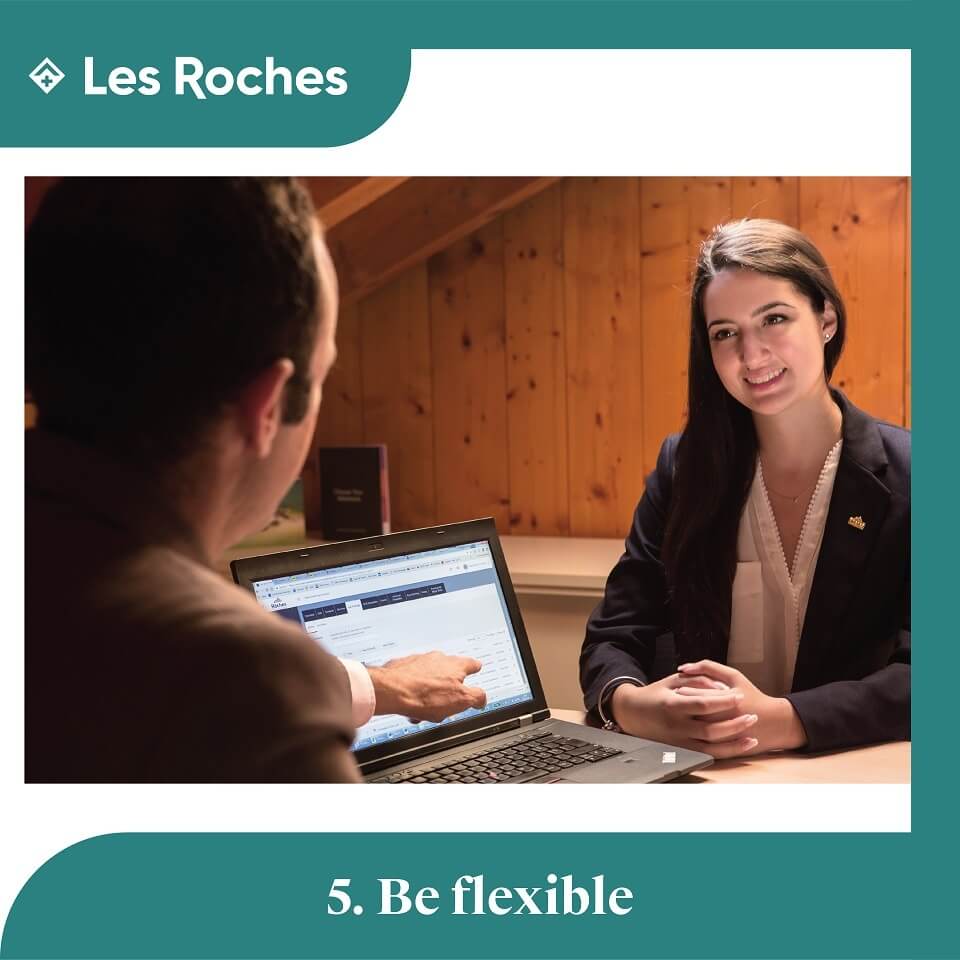 5. Be flexible
A lot of jobs require multiple interviews in which you might get to know different people in the business. Always try to be flexible to their timetables, it speaks very highly of an applicant to do so, especially if there is a big time difference between places. These interviews will build your confidence in your application and will give you progressive knowledge about the business that you can use to your advantage.
At the same time, flexibility may come within the internship opportunity. You might be in an interview and the recruiter may offer another position than the one you applied for. Be flexible! This new position might be even better than you expected. And remember: asking for opportunities in another position is always a positive thing, as long as it is done in a professional manner.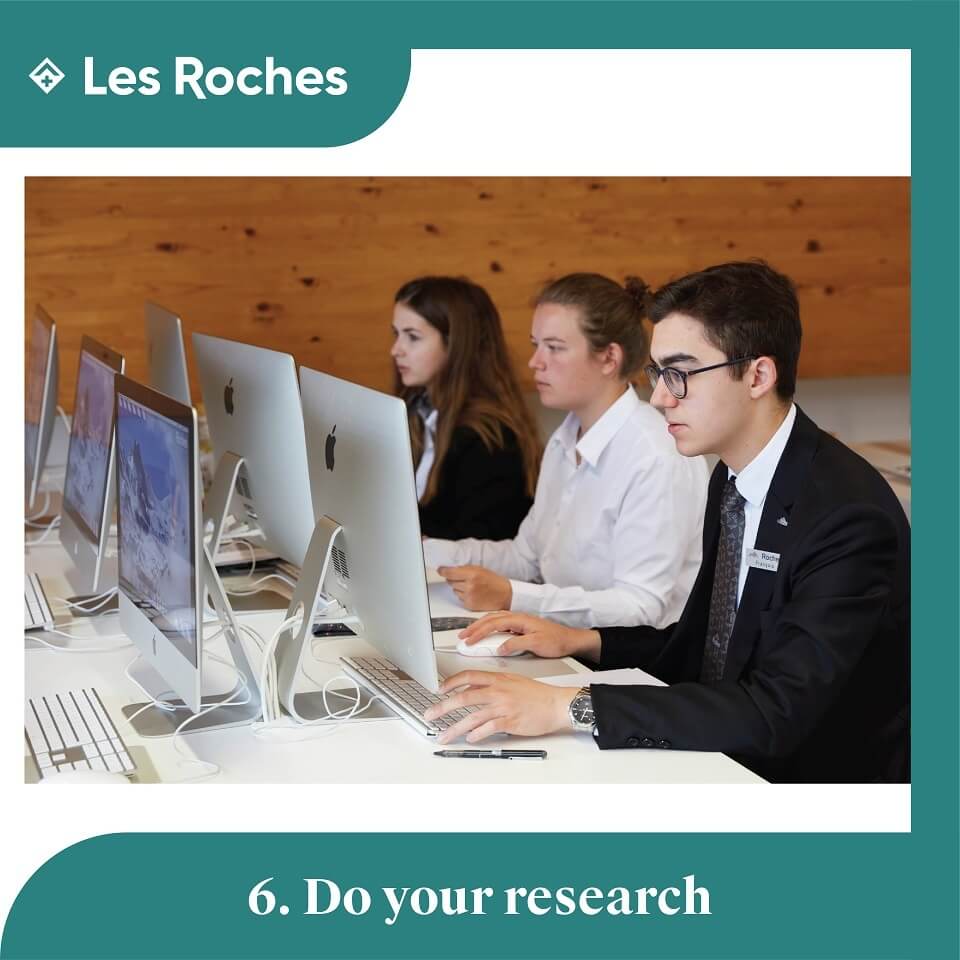 6. Do your research
Conducting research on a business before the interview is extremely useful. It is almost always the case that the interviewer will ask "So, why do you want to work with us?" or "What interests you about our business?" or "What do you know about the company?" and your answers need to be compelling. A quick look on their website and social media usually does it, and will add points in your favor in your interview.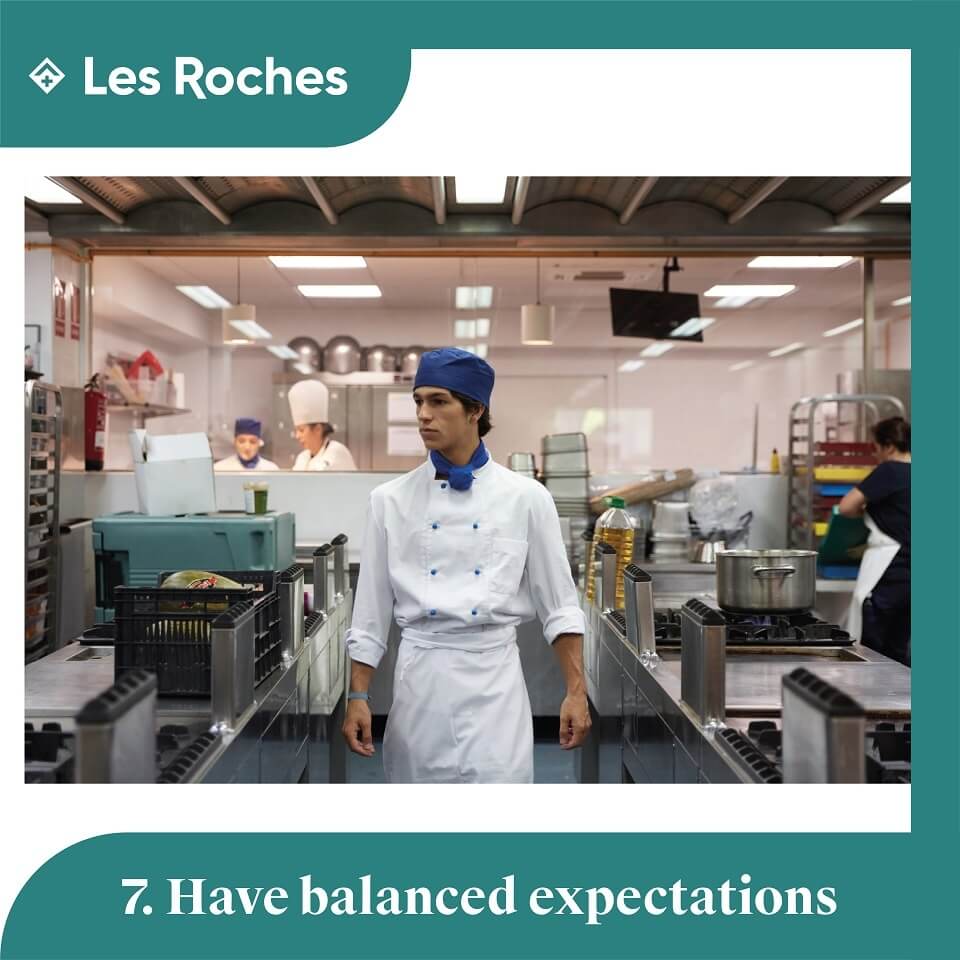 7. Have balanced expectations
Managing your expectations will help you greatly during your internship process. During the application process, do not expect to get the job you want first time, have preferences and start your research from the first to the last one. Don't expect to receive a call back from every job you applied to, and don't expect to secure a position if you have only applied for three jobs.
The industry is big, but so is the demand, and having a big pool of options will give you security. If you have secured an internship, expect the work to be challenging and require a lot of training and focus. After all, an internship is only a temporary job in which your priority should be to learn and make long-term connections.
This experience will build you into a future member of the workplace, with a professional advantage over those who do not have internships as part of their curriculum.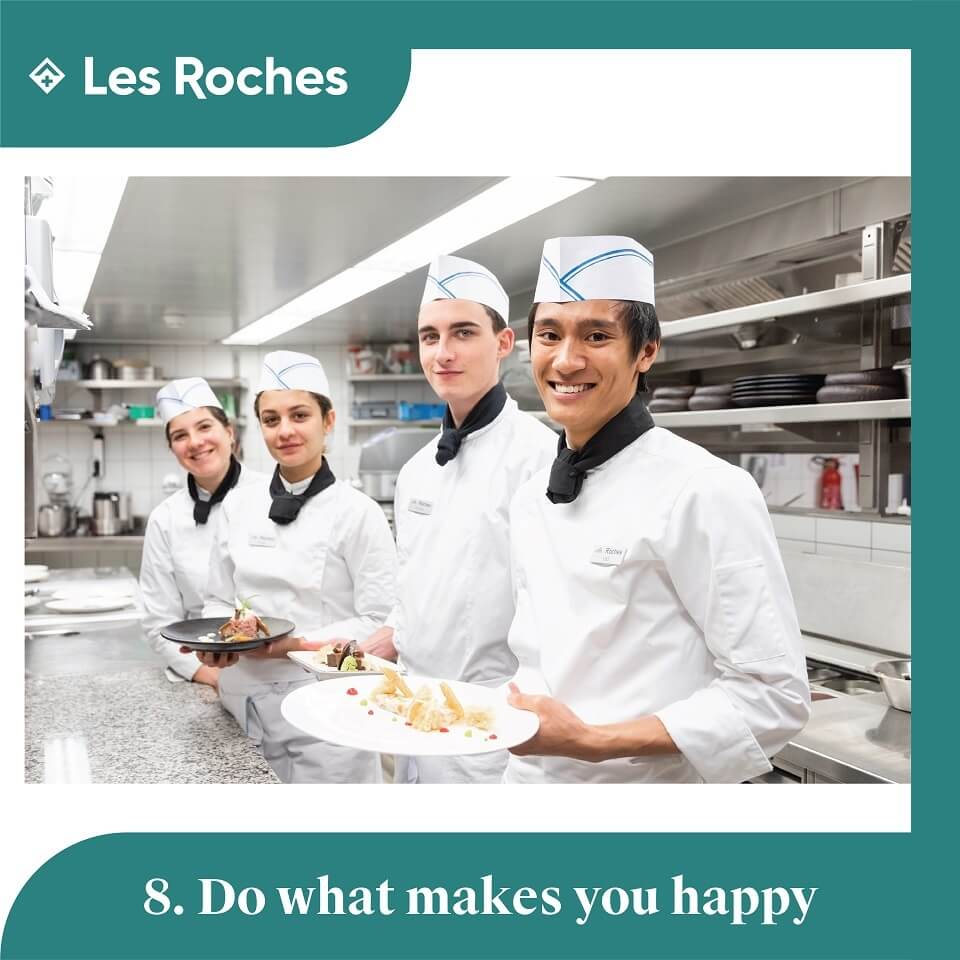 8. Do what makes you happy
Whether your internship is in the area or position you like or not, you will find things about it that you will enjoy. Always keep your goals in mind and make sure you do everything to be the best team player and give your guests/customers the best possible experience. A good workspace will make you happy and will make you feel very accomplished!  
Looking back to my first internship, it was not my first choice of position, but it gave me so many life and professional skills. It has allowed me to connect with people and grow as a person, and to have experiences I would have never have had otherwise.
And remember, you're never alone in your search for an internship! Les Roches offers career advice constantly and is able to help with reviewing CVs, finding roles, and support while working.
Source: https://lesroches.edu/blog/finding-perfect-internship-8-things-need-know/