Saturday 25th October 2014 | Four Seasons Bangkok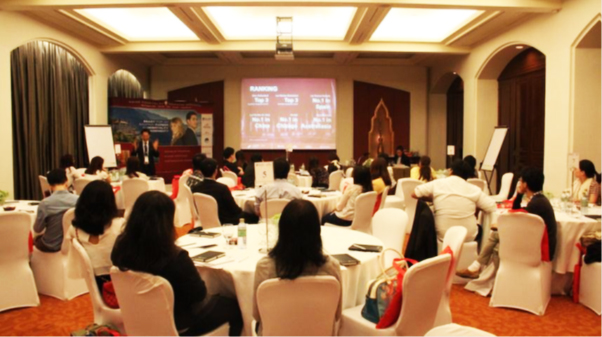 It has been our great pleasure to organize "HOW CAN 18-MONTH STUDY CHANGE YOUR CAREER AND YOUR FURTURE?", the very first workshop which invited all the experts from every section of hotel industry as guest speakers to exclusively explain about their roles and share their work experience withThai students who are planning to further their education or to change their career to hotel management area before encouraging them to complete the project "Starting up a Boutique Hotel Business in Bangkok" together.

More than 30 participants attended the workshop. Some have hospitality background while some are from totally different field which made us very excited to see them all brainstorm and work as a team for the project later on.
We started with an official welcome from Mr. Vinod Narayan, Director of Food & Beverage at Four Seasons Hotel Bangkok. Followed by Ekthana Faisaikram, and Sonia Mueller on new career trends- hospitality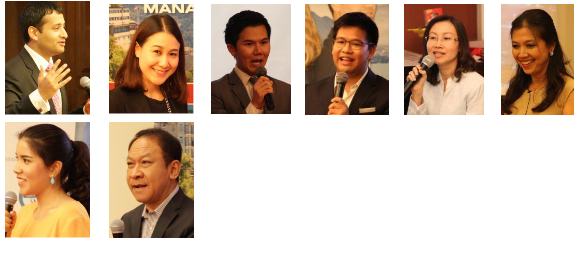 Then met with all hotelier experts Ms. Sarochinee Napawong, (Sales Manager at Four Seasons Hotel, Bangkok), Mr. Pruetbhagorn Kechorn (Assistant Manager at Four Seasons Hotel, Bangkok), Mr. Puthapong Purushahansa (Lecturer at Panyapiwat Institute of Management, former F&B Director at Four Seasons Bangkok), Ms. Patcharee Uthairatanakit (Senior First Vice President at Multi Corporate Banking Department, Kasikorn Bank), Ms. Benjama Olarnsakul (Director of Public Affairs, 30- year experience in HR at Mandarin Oriental Bangkok Hotel), Ms. Rungaroon Rojanachotikul (Managing Director at Vista Residence Bangkok), and Mr. Weerasak Choonhajak (Director of Samed Resorts Group).
Participants paid very close attention to what our guest speakers share with them. Some of them even asked quite a few interesting questions during the talk session.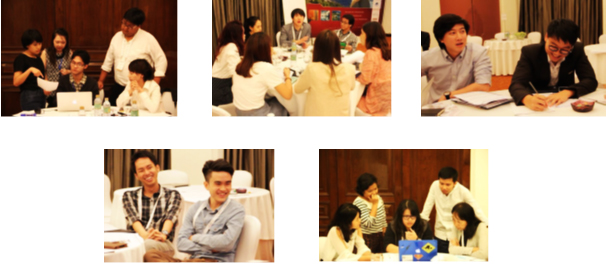 After experts finished their part, then it was time for participants to work together with their team on the assigned project "Starting up a Boutique Hotel Business in Bangkok" and prepare for the presentation to the commentators.

The VELVET ROOMS the most realistic, service & operation initiative, theme design& innovative, trend setter, sales & marketing initiative ideas and plans for their boutique hotel business was awarded with dinner voucher for the whole team at Italian restaurant at Four Seasons hotel while some participants also received an afternoon tea, lunch or dinner voucher during the lucky draw session